'No ordinary transaction' | Texas firm to buy iconic Galveston Island properties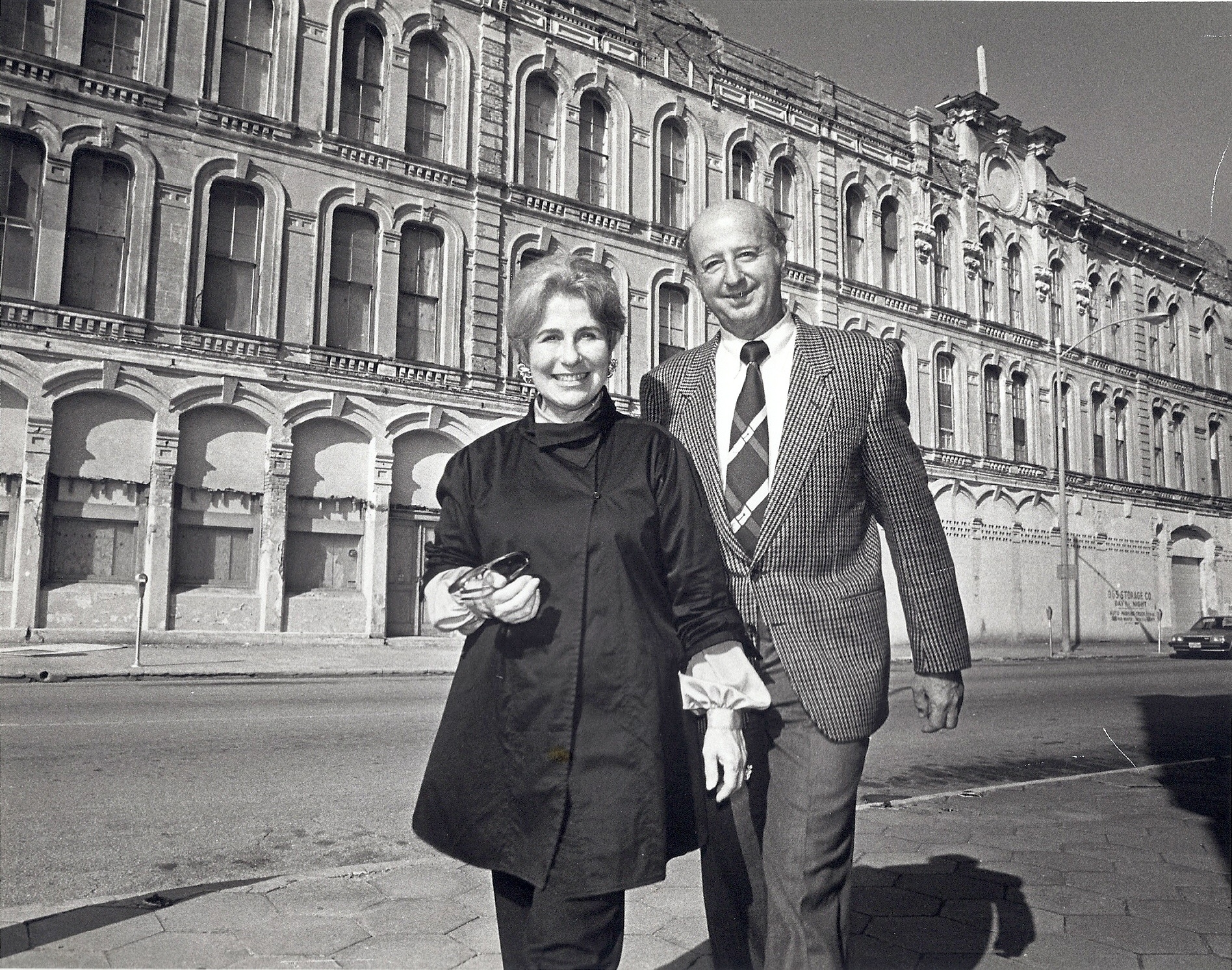 Cynthia and George Mitchell stroll in front of The Tremont House in Galveston, Texas. Mitchell Historic Properties reached an agreement to sell the landmark hotel, with a majority of proceeds to benefit the Cynthia and George Mitchell Foundation.
---
Mitchell Historic Properties has agreed to sell iconic, historic island properties Hotel Galvez & Spa and The Tremont House to a Texas-based hospitality, management and investment group, a transaction members of the George P. Mitchell family described as bittersweet but part of a larger plan to leverage commercial holdings for the city's benefit.
Mitchell Historic Properties and SRH Hospitality Galveston Investments are expected to close the deal within the first quarter of the year and don't plan to disclose financial terms of the sale of properties inextricably linked to the late George P. Mitchell and his wife, Cynthia. George Mitchell, an island-born developer, oilman and philanthropist, invested many millions of dollars to revitalize downtown and revive old island buildings.
Mitchell Historic Properties is owned by Mitchell's estate, which plans to contribute most of the money from the sale to the Cynthia and George Mitchell Foundation, company officials said in a prepared statement.
"With the pending transition of the hotels to very capable hands, we will now be better positioned to prioritize community impact in our remaining holdings," Grant Mitchell, president of Mitchell Historic Properties and chairman of the Cynthia and George Mitchell Foundation, said in the statement.
Mitchell Historic Properties owns the hotels, but they're managed by Wyndham Grand Hotels, which, between the two properties, employs about 300 people. Employees were informed of the pending sale Thursday, Grant Mitchell said.
KEENLY AWARE
Grant Mitchell in a phone interview Thursday said he couldn't speak for SRH Hospitality but thought officials of the Dallas-based company would be "shooting themselves in the foot" if they didn't keep existing employees after the acquisition.
"Our hotels have outstanding management," said Grant Mitchell, who is George Mitchell's son.
Officials with SRH Hospitality couldn't immediately be reached for comment, but the company released a statement Thursday:
"We're keenly aware of Cynthia and George Mitchell's legacy and the family's importance to Galveston and the greater Galveston Island community," said Paul Barham, CEO of Harrell Hospitality Group LLC, a partner in SRH Hospitality, whose company will operate the island hotels.
"We understand this is no ordinary transaction and one that was not taken lightly by the Mitchells. It will be our honor and privilege to serve as the new stewards of these iconic landmarks, and we are looking forward to investing not only in the continued success of these historic properties but just as importantly in the Galveston community."
MAYBE MARRIOTT?
Some islanders have been speculating for days that the buyer would be a Marriott franchisee. Those insiders said the island properties would benefit from Marriott's extensive reservation system. Marriott in 2016 closed a merger with Starwood, creating the world's largest hotel company with more than 5,700 properties, 1.1 million rooms and a new portfolio of 30 brands. SRH has developed several properties under Marriott brands.
Speculation in recent days has been the 224-room, beachfront Hotel Galvez, 2024 Seawall Blvd., would fall under the Autograph Collection, which includes properties Marriott describes as "rich in craft and character, design, architecture and unexpected back-stories."
It wasn't immediately clear whether The Tremont House, 2300 Ship Mechanic Row in the island's downtown, also would be included in the Autograph Collection.
Grant Mitchell said he would be surprised if the new owners changed the names of the well-known island properties.
STORIED HISTORIES
The Hotel Galvez traces its history to 1911, when the Galveston Hotel Co. announced plans for a new year-round beach hotel. Construction was launched the same year, helping restore the island as a tourist destination after the 1900 Storm. It has had various owners, including the Moody and Kempner families, over the years.
In 1988, The Galvez sold at auction after its owner declared bankruptcy. Aetna Life Insurance Co., the mortgage holder, took it over for $7.68 million. Mitchell Historic Properties acquired the hotel from Aetna in 1993 for $3 million and undertook a $20 million upgrade of it to restore its 1911 appearance.
There once were two Tremont Houses on the island — one built in 1839 and destroyed by a fire and another built in 1865, which deteriorated after the 1900 Storm and was condemned in 1928. In 1981, George and Cynthia Mitchell acquired the 1879 Leon & H. Blum Building, which formerly housed a dry goods store, and developed what would be the third Tremont House, which features 119 rooms.
Mitchell Historic Properties also owns hotel Harbor House on Pier 21, which isn't part of the transaction.
NEW STRATEGY
George P. Mitchell, founder of Mitchell Energy & Development Corp, made his fortune wildcatting for oil and natural gas. He died in 2013.
Grant Mitchell attributed the decision to sell the properties to complex estate issues and a strategy to review Mitchell Historic Properties' holdings to determine how they could best be leveraged to benefit the island and the foundation.
Since its incorporation in 1978, the foundation has distributed or pledged an estimated $750 million in grants to myriad causes, programs and institutions.
"The foundation's Galveston Program's long-term objective is to drive a gradual transformation to safer, more livable neighborhoods and green spaces, affordable housing, equitable access to health care, social services, quality education, healthier environments and greater employment opportunities on the island," foundation officials said.
Islanders are attached to both hotels and associate them with George and Cynthia Mitchell, who shared an affinity for the eclectic seaside city and often looked for ways to contribute to its fragile economy, family members said. Mitchell Historic Properties has invested more than $150 million in commercial space, loft apartments and three hotels, mostly within The Strand National Historic Landmark District.
Grant Mitchell recalls walking The Tremont House during renovations in the 1980s, he said. In his mind, it will forever be linked to his parents, he said.
"I share that attachment," he said. "It's completely so tied to their history. It's hard to let it go, but it's the right thing for the properties and the city of Galveston in the long run."